Onze bio-raffinaderij in Rotterdam verwerkt grondstoffen, voornamelijk maïs uit Europa, tot een aantal hoogwaardige producten. Onderstaand overzicht maakt duidelijk welke producten dat zijn.
Suiker en eiwit
Het proces maakt gebruik van het zetmeel (in feite suiker) in de maïs. Deze suikers worden omgezet in vloeibare energie: alcohol. Het eiwit in het graan wordt vervolgens maximaal geconserveerd, en aangevuld met waardevolle gisteiwitten. Deze eiwitten worden daardoor een zeer voedzaam diervoeder.
Het belangrijkste, meest voedzame deel van het graan blijft dus in de voedselketen.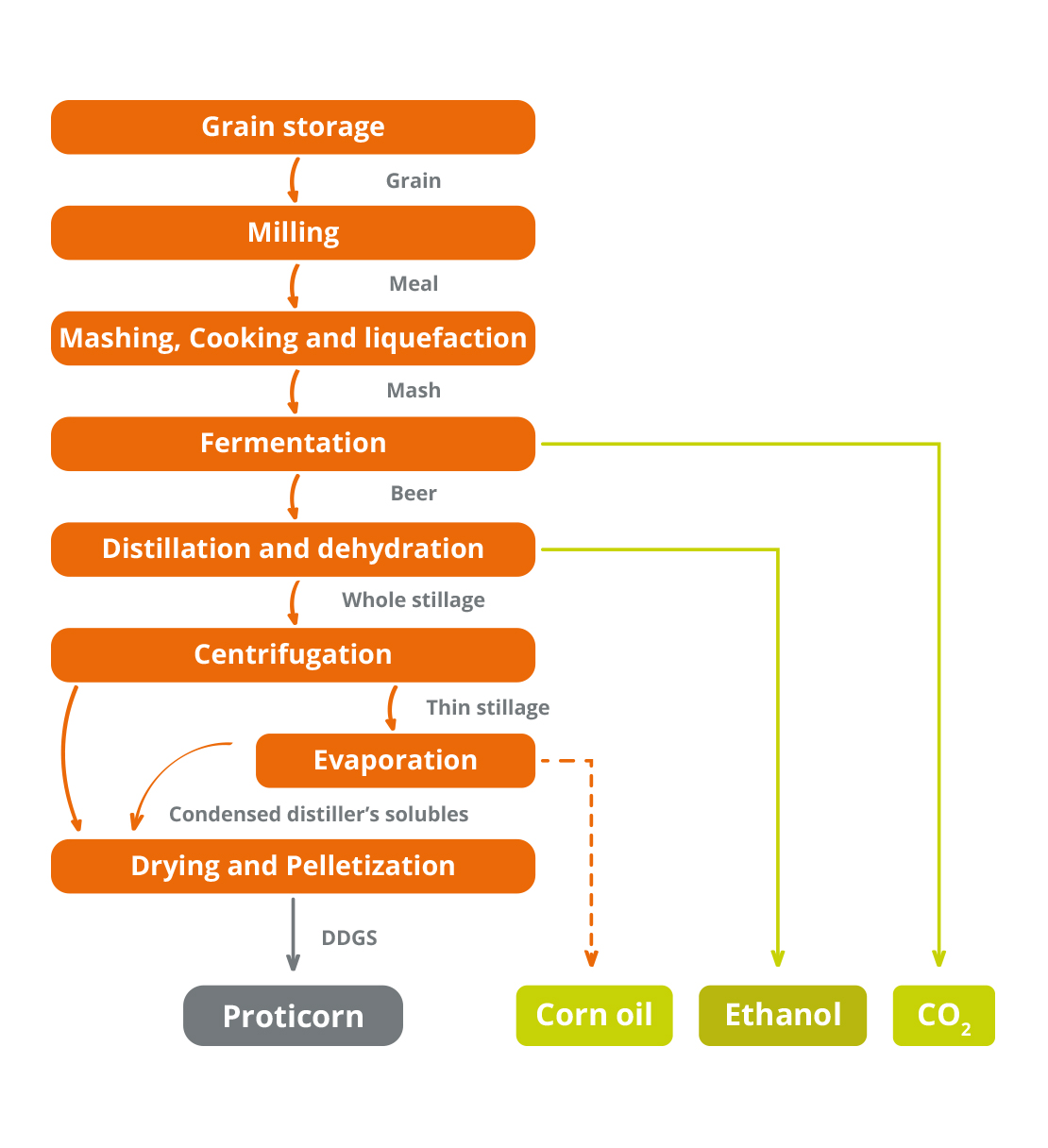 Stap-voor-stap
Alle belangrijke stappen zijn in het overzicht weergegeven en nader toegelicht.
Aangezien zetmeel niet uit zichzelf kan gisten, zijn er voorbereidende stappen nodig. Maïs wordt eerst gemalen, daarna gemengd met water, gekookt en vervolgens worden er speciale enzymen aan toegevoegd. De 'pap' die na afkoeling ontstaat, gaat naar een vergister waar gist en andere enzymen worden toegevoegd. Tijdens de fermentatie (vergisting) zet de gist de suikers om in ethanol en CO2.
De fermentatiecyclus duurt 50 tot 60 uur bij een temperatuur van 30 tot 32°C. Het resulterende product, dat 'bier' wordt genoemd, heeft een alcoholgehalte van 16 tot 18 volumeprocent.
Van fermentatie via distillatie naar ontwatering
Daarna volgt het distillatieproces om de alcoholstroom te concentreren en te zuiveren.
De laatste fase van het proces is de dehydratatie waarbij het resterende water wordt verwijderd om ethanol met minder dan 0,2 % water te produceren. We noemen dat ook wel "absolute" of "watervrije" alcohol met een sterkte van 98,8%.
Het veevoer
DDGS (Dried Distillers Grains with Solubles) is ons belangrijkste bijproduct. Het bevat ongeveer drie keer zoveel eiwitten als het gebruikte graan. Het wordt in de vorm van pellets als Proticorn verkocht aan de veevoerindustrie (melk- en vleeskoeien, varkens en gevogelte).
En dan is er ook nog maïsolie
Tijdens het verdampen van de dunne (rest)stroom wordt de maïsolie, na voorbehandeling, met behulp van een centrifuge afgescheiden.
Zo zie je wat er allemaal uit die ene maïskorrel wordt gehaald. Het is een prachtig circulair proces.